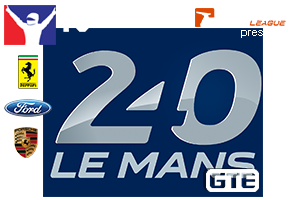 Ad una manciata di anni dal centenario della prima endurance francese, Simracingleague si prepara a rivivere la corsa che ha reso leggenda l'automobilismo. Un simbolo, la capostipite di un modo di concepire le gare capace di portare il pilota e la sua auto oltre la fatica, oltre la resistenza, oltre la tenacia: verso il mito. Siete pronti a rendere sempre più sottile il confine tra virtuale e reale? Tre auto, un compagno con cui condividere la Storia, un'immensa platea che vi aspetta: tutto questo il 24 giugno 2018, su SRL TV in diretta completa per tutto l'evento. Preparate i motori. Le Mans 2018 SRL è arrivata!
At few years from centenary of first French endurance, Simracingleague is preparing to relive the race that has made motor racing  a legend. A symbol, the progenitor of a way of conceiving races, able to bring driver and his car beyond difficulty, beyond resistance, beyond tenacity: towards myth. Are you ready to make the border between virtual and real ever thinner? Three cars, a companion with whom to share history, a huge audience waiting for you: all this on 24 June 2018, on SRL TV live broadcast. Prepare the engines. Le Mans 2018 SRL has arrived!
REGOLAMENTO
Principi Generali

Per quanto non espressamente previsto, si rimanda alle Regole Generali.
Il server aprirà alle ore 17.00 (5.00pm CET)-

Iscrizione e Assenze

l'evento avrà luogo solo al raggiungimento di un minimo di 20 iscrizioni.
L'iscrizione (QUI) deve contenere obbligatoriamente il nome utente del Team e i piloti che parteciperanno (fino a 2). Le iscrizioni non conformi non saranno approvate.
La password del server sarà comunicata attraverso PM sul Portale SRL e sul forum iRacing.

Posizione finale dei disconnessi e squalificati in gara

I piloti saranno collocati in base al report finale di gara fornito da iRacing.

 

Reclami

La violazione delle norme di comportamento in pista sono gestite da iRacing.
GENERAL RULES
General principles

For anything not expressly provided for, please refer to the General Rules.
Server opens at 5.00pm CET.

Registration and Absences

The Race will take place only upon reaching a minimum of 20 participants.
The registration (HERE) must necessarily include Team and drivers names (at least 2). Non-compliant entries will not be approved.
Server passord will be shared by pm on SRL portal and iRacing Forum.

Final position of disconnected and disqualified

Drivers will be placed on the basis of final race report provided by iRacing

.

Claims

The violation of the rules of behavior on the track are managed by iRacing.
RACE SEVER


Sun June, 24 – (5.00pm CET)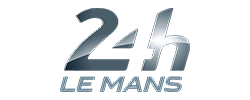 OPENING SERVER AND LIVE STREAMING
The race server will open at 5.00 pm. Youtube Live will start approximately at 6.30pm.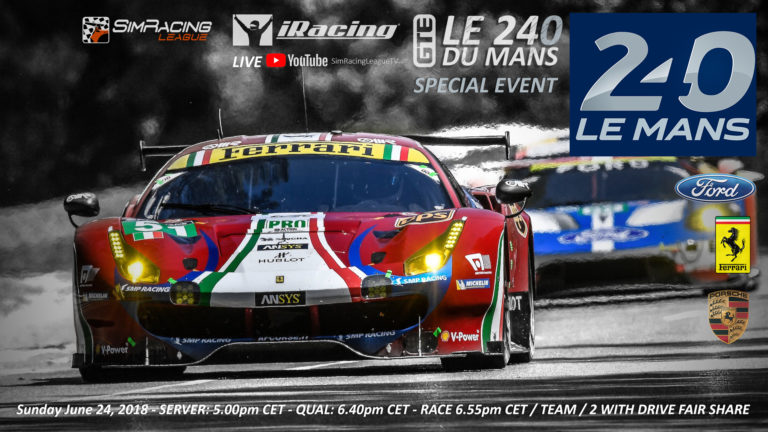 ---

Booking

Chiusura alle 23:59 del 23/06/2018 (closing at 11:59pm CET Sat 23 June 2018)

L'iscrizione deve essere effettuata esclusivamente da uno dei due piloti (Booking must be made only by one of two drivers)


Booked Team 

31



Prenotazioni
Le iscrizioni per questo evento sono chiuse.