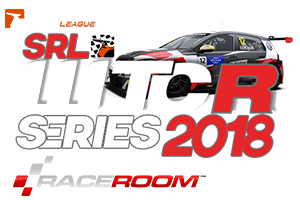 Frutto della fusione WTCC e TCR, La World Touring Car Cup è la nuova serie che ha visto la luce nel corso di questo 2018, mantenendo al momento le specifiche dei campionati TCR, con più sessioni di gara e griglia invertita . Anche SRL apre la sua nuova serie su RaceRoom con i sette bolidi in grado di erogare una potenza massima vicina ai 350 CV: la SRL WRTC 2018, dove la Hyundai i30 N TCR, la Honda Civic Type R TCR, la Audi RS 3 LMS, la Cupra TCR, la Peugeot 308TCR, la Volkswagen Golf GTI TCR e l'Alfa Romeo Giulietta TCR si daranno battaglia su altrettanti impegnativi circuiti, come il Nurburgring, Zandvoort e Suzuka per citarne alcuni. Gare trasmesse in live su SRLTV, che accompagnerà i piloti sino al traguardo ed ai premi in palio.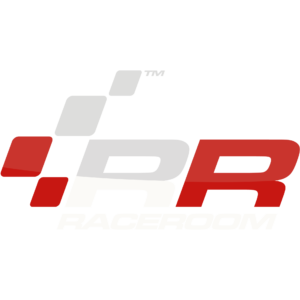 P4 to P10 PRIZES: 500 VRP
BY RACEROOM ENTERTAINMENTS AG
REGOLAMENTO
Principi Generali

Per quanto non espressamente previsto, si rimanda alle Regole Generali.

L'orario di apertura del server per tutte le settimane di gara è 20:30 CEST o 20:30 CET (con sessione di pratica).

Iscrizione e Mini Team

Il Campionato avrà luogo solo al raggiungimento di un minimo di 20 iscrizioni.
L'iscrizione (a fondo pagina) deve contenere obbligatoriamente nome, cognome (così come apparirà in gara), auto e livrea. Le iscrizioni si chiuderanno alle ore 23.59 del 28/09/2018.
Inoltre, i piloti potranno formare un Mini Team (diverso quindi da quello di appartenenza su SRL) che dovrà essere composto da due soli piloti.
Perché il Mini Team sia ufficialmente riconosciuto, sarà necessario comunicarlo nell'apposito topic sul forum SRL da parte di uno dei due piloti, indicando i nick dei due appartenenti e il nome del mini team. In questo caso è obbligatoria la scelta della medesima auto (sono permesse ovviamente livree differenti)

La formazione dei mini team è consentita fino al termine delle iscrizioni.

Al raggiungimento del 44° iscritto si accetteranno solo iscrizioni in riserva.

Format 




Il campionato è strutturato in tre fasi  (Road To, WRTC Champ e Final Rush) rispettivamente da 3, 3 e 1 settimana di gara. Ogni fase ha un sistema di punteggio incrementale.

Alla gara Final Rush accederanno solo i primi 40 classificati.

I primi 44 iscritti avranno diritto alla partecipazione a tutte le gare del campionato, mentre le riserve avranno diritto di sostituire i titolari in caso di squalifica o ritiro, ma, in ogni caso, avranno già opportunità di partecipare, in ordine alla priorità di iscrizione, a: 




Week 1 – Hungaroring (max 4 riserve in 1 server)
Week 2 – Nurburgring (max 2 riserve in 1 server)
Week 4 – Zandvoort (più riserve in 2 server)
Week 5 – Imola (più riserve in 2 server)
Week 6 Red Bull Ring (più riserve in 2 server)
Week 7 Suzuka (40 slot unico server, qualora le riserve rientrino nei primi 40 classificati)

La suddivisione dei piloti nei 2 server per la fase THE CAMP avverrà attraverso posizione in classifica, dividendoli con il sistema del "tergicristallo". (Es. Server 1: 1°, 4°, 5°, 8°, 9°, 12° ecc. Server 2: 2°, 3°, 6°, 7°, 10° 11° ecc.)

Il server trasmesso in LIve Streaming nella fase THE CHAMP sarà sempre quello ove corre il primo in classifica.

Ogni settimana prevede due gare: una da 20 minuti con griglia stabilita dalle qualifiche e una da 30 minuti, con griglia stabilita da risultati della gara precedente e invertita per i primi 10.

E' prevista una classifica pilota, una classifica SRL Team e una classifica mini-team.

Assenze

E' permesso un massimo di 2 (due) assenze nelle prime 6 giornate di gara. Alla terza assenza scatterà la squalifica dal campionato.

Posizione finale dei disconnessi e squalificati in gara

Ai fini della classifica finale, non percepiranno punti i piloti indicati come DNF, DQ e DISC nel report di gara fornito dal server.

Reclami

La violazione delle norme di comportamento in pista sono gestite in parte da RaceRoom (come i tagli di pista). Per qualsiasi episodio è comunque possibile presentare reclamo come da regolamento.

Montepremi

Il montepremi globale sarà pari a 11.600 VRP
I primi tre classificati a fine campionato riceveranno in premio un codice per riscattare corrispondenti VRP:


P1 –

5000

VRP (valore 34,99 EUR)
P2 – 2000 VRP 30% (valore 16,99 EUR)
P3 – 1100 VRP (valore 9,49 EUR)

I classificati dal quarto al decimo posto riceveranno in premio un codice da riscattare corrispondente a 500 VRP ciascuno. Questi 7 premi sono offerti da RACEROOM ENTERTAINMENT AG.
GENERAL ROLES
General principles

For anything not expressly provided for, please refer to the General Rules.

For all race weeks, the server opening hours in 20:30 CEST or 20.30 CET (with practice session).

Registration and Mini Team

Championship will take place only upon reaching a minimum of 20 participants.
The registration (to page bottom) must necessarily include the participant's name, (as appear in game), car and livery. Signup will be close at 23.59 CET on sept, 28.

Moreover, drivers will be able to create a Mini Team (therefore different from the one belonging to SRL) which must be composed of only two drivers.

For the Mini Team to be officially recognized, it will be necessary to communicate it in the appropriate SRL forum topic by one of the two drivers, indicating the nicknames and mini team name. In this case, is mandatory the choice of the same car (different liveries are allowed, of course)

Formation of mini teams is allowed until closing signup period.

Over 44 partecipant,  will be accepted Wild Cards only.

Format

Championship is structured in three phases (Road To, WRTC Champ and Final Rush) respectively 3, 3 and 1 week. Each phase has an incremental scoring system.

In Final Rush race only the first 40 classified will be admitted.

The first 44 drivers will have the right to participate all races, while reserves will have the right to replace the holders in case of disqualification or withdrawal, but, in any case, will already have opportunities to participate, in order to the registration priority, to:




Week 1 – Hungaroring (max 4 res in 1 server)

Week 2 – Nurburgring (max 2 res in 1 server)

Week 4 – Zandvoort (more reserves in 2 servers)

Week 5 – Imola (more reserves in 2 servers)

Week 6 – Red Bull Ring (more reserves in 2 servers)

Week 7 – Suzuka (40 single-server slots, if res fall within the first 40 classified)

Drivers will be divided in 2 servers in THE CAMP phase through a ranking position, dividing them with the "wiper system". (Eg Server 1: 1st, 4th, 5th, 8th, 9th, 12th etc. Server 2: 2nd, 3rd, 6th, 7th, 10th 11th etc.)

Server in Live Streaming in THE CHAMP phase will always be the one where the first in the standings runs.

Each week has two races: Race #1 20 minutes with grid set by qualifyng and Race #3 with a grid set by results of previous race and reversed for firsts 10.

There will be a pilot classification, an SRL Team ranking and a mini-team ranking.

Absences


A maximum of 2 (two) absences is allowed in the first 6 days of competition. At third absence drivers will be disqualified from championship.

Final position of disconnected and disqualified.

For standing, will not receive points drivers will be listed as DNF, DQ and DISC in race report provided by server.

Claims

The violation of the rules of behavior on the track are managed in part by RaceRoom (like track cuts). For any episode it is still possible to file a claim.

Awards

Awards Global amount: 11.600 VRP

First three in final standings will receive a redeemable code for followed VRP:




P1 – 5000 VRP (value 34,99 EUR)
P2 – 2000 VRP 30% (value 16,99 EUR)
P3 – 1100 VRP (valore 9,49 EUR)

Drivers ranked from fourth to tenth will receive a redeemable code of 500 VRP value each. This awards are offered by RACEROOM ENTERTAINMENT AG.
The result of WTCC and TCR merger, the World Touring Car Cup is the new series that has seen the light during this 2018, keeping the specifics of the TCR championships, with more race sessions and inverted grid. SRL also opens its new series on RaceRoom with seven racing cars capable of delivering a maximum power close to 350 hp: the SRL WRTC 2018, where Hyundai i30 N TCR, Honda Civic Type R TCR, Audi RS 3 LMS, Cupra TCR, Peugeot 308TCR, Volkswagen Golf GTI TCR and Alfa Romeo Giulietta TCR will battle on as many demanding circuits as the Nurburgring, Zandvoort and Suzuka. All Races will be broadcasted by SRLTV, which will accompany drivers to the finish line.
POINT SYSTEM
Il sistema di punteggi prevede tre diverse fasi (ROAD TO/THE CHAMP/FINAL RUSH) con punti incrementali, in modo che nell'avanzare della competizione i partecipanti godano di sempre maggiori opportunità di recupero in classifica.
Scoring system foresees three different phases (ROAD TO / THE CHAMP / FINAL RUSH) with incremental points, so that during the competition drivers will enjoy more and more opportunities to recover positions in standings
CARS AND LIVERY
(scroll left/right)
WEEK 1 BIS
OCT, 18 
20.30 CEST