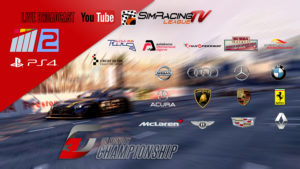 Il 9 ottobre SimRacingLeague.it accoglierà Project CARS 2 inaugurando con Gara 1 la competizione delle competizioni: il Campionato GT3 On Monday su PlayStation 4. 12 case automobilistiche si affronteranno in un tour che farà tappa in tutto il globo, dal Fuji Speedway alla finalissima a SPA Francorchamps, passando per l'Algarve, il Red Bull Ring e il Circuit of the Americas, fino al nastro cittadino di Long Beach, la "Montecarlo" a stelle e strisce.
Mentre stiamo scrivendo, gli iscritti alla competizione sono già più di 40 e i presupposti per un campionato emozionante ci sono tutti.
Ovviamente, il gioco non è ancora sugli scaffali e bisognerà attendere ancora qualche giorno prima che regolamento e specifiche di gara giungano alla loro versione definitiva. Già ora, però, è possibile iscriversi e scegliere uno dei dodici bolidi che il titolo Slightly Mad Studios metterà a disposizione già al Day One.
Con un numero così alto di partecipanti e.per garantire il massimo divertimento e costante competitività, SRL vara un format che prevede un punteggio incrementale ad ogni round e la ridistribuzione dei piloti nelle lobby in base ai risultati precedenti. Si tratta di sistema che permetterà a tutti di battersi fino all'ultima curva dell'ultima gara e di accedere alla finalissima del 18 Dicembre.
Inoltre, ogni round di campionato godrà di una diretta streaming sul canale ufficiale youtube, mentre, gradita novità, il vincitore del campionato, il secondo e il terzo classificato riceveranno a casa la prima coppa targata SRL.